Optional Capabilities

Image and Data Compatibility Options

Import files from spreadsheet and database programs like Excel, Quattro Pro, Access, Paradox, and WordPerfect to increase the efficiency of gathering information into Doc-cetera.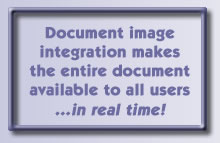 Doc-cetera can also manage the images associated with your documentation. Scan and upload production document images to the Doc-cetera server for storage. These images can be hotlinked to the document number when it appears in any search results. Doc-cetera handles Internet-standard .jpg, .gif and .png images.
No Internet? No problem

Doc-cetera can help meet your needs when you must access case information without an Internet connection -- in a deposition or during a court appearance -- by using a specially-prepared CD-ROM. If you want access to your information in these or similar situations, simply sign up for our RTCD option. RTCD lets you go remote with all the information you'd normally access via the Internet, put conveniently on a CD ROM.

It's easy to order a new CD: notify us by email at least one week in advance of the date you'll need the CD. About 48 hours before the due date, we burn a CD with everything you need for stand-alone access to your Doc-cetera up-to-date information. You'll attend your appearance armed with a CD of your information and a run-time version of Doc-cetera.